Way before the first Women's Day observance in 1909, female fashion designers were breaking boundaries to empower women. Iconoclasts Jeanne Lanvin and Coco Chanel unleashed collections that traded pretty for edgy, did away with constrictive corsets, and carved out an individualistic sense of self-expression. Menswear was reinterpreted into sporty casual chic looks, light dresses revealed the natural body and bold, geometrical prints took center stage. It inspired generations of women to stand out in stark contrast, audacity at full throttle.
In our list of female fashion designers who shaped the industry, we left out names of old like Madeleine Vionnet and instead chose to focus in from the 1980s onwards. Troubadours like Miuccia Prada and Sarah Burton struck out against the confines of a male-dominated trade, altering preconceptions of women and breaking all norms of conformity. 
Here, we examine seven of the biggest, most influential female designers, who carried the torch and are paving the way for a fashion industry that is for women, by women. Who runs the world? Girls!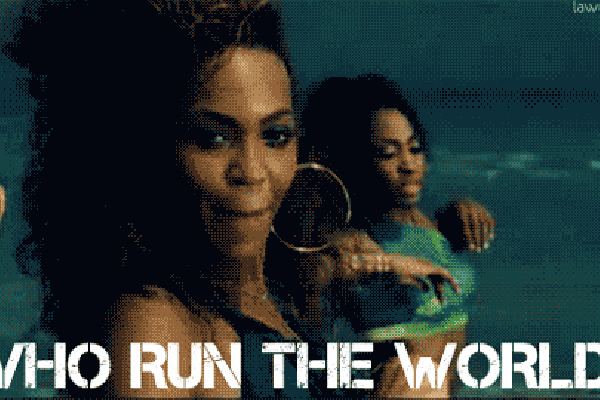 MIUCCIA PRADA
With one fell swoop in her Spring 1996 collection, Miuccia Prada challenged everything over-femme and teeteringly delicate about women's fashion. Gone were Barbie-perfect high-heeled pumps of the 90s—in their place, came chunky heels, ungainly sandals, and square toes. Add to that clashing colors and prints that weren't seen since the 70s, from chartreuse greens to muddy browns. Miuccia Prada has never stopped bringing into fashion what was previously considered outré, from socks with sandals to housewife dresses. So if one day, you look down and see your acid green maxi skirt grazing a pair of lug-soled boots, thank Mrs. Prada. As she told Another Magazine in 2021, "Bravery is something women always need."
MARIA GRAZIA CHIURI
The designer who gave Fendi baguettes to the world, Maria Grazia Chiuri's debut collection for Dior featured tees emblazoned with the words, "We should all be feminists." The shirts were paired with conflicting shapes, some inspired by structured fencing uniforms and others by dainty ballerina-wear. In that one moment, the new behemoth feminist Dior woman emerged—guns blazing, yet elegant with just the right hit of romantic. The signature Dior ballet flat—soft wraps adorned with ribbons, made for walking with supreme comfort—embodies the fighting spirit Chiuri has put into Dior: delicate but always rooted in reality.
DONATELLA VERSACE
An undisputed icon of everything gay, flashy, and feminist, Donatella Versace centered her collections on the power of self. Versace took a sensual empire built by her brother, Gianni, to levels of in-your-face, unapologetic glamor: insane prints, blinding hues of gold and silver, and sheer materials meant to show off the true female form. Donatella has long championed equality, as evidenced by her Spring 2017 runway show that began with a video of top models stating their varied nationalities. Age and ethnically diverse models then stomped the runway wearing futuristic, streetwear-influenced pieces that shouted words like courage, strength, unity, and power. As she once wrote in an article for Grazia Daily: "These are all part of how you feel when you wear Versace."
VERA WANG
Vera Wang is the ultimate subversive force in bridal wear, single-handedly tossing poufy skirts and neck-choking coverage for modern, slinky silhouettes, a style we largely perceive now as the only fashionable way to say "I do." Wang ushered in an era of tight-fitted mermaid bodices, barebacks, and low-cut necklines, always cut like a dream and sometimes in black, blue, or red. She launched a ready-to-wear line in 2000, carrying on her pioneering spirit of nonconformism and giving women the tenacity to rebel. "If I go down for anything, that's what I'd like to be remembered for—in a traditional business, we broke every rule," she told Harper's Bazaar last year. "Especially in the world of weddings; I'm seen as a quiet renegade. OK, maybe not so quiet." 
SARAH BURTON
When Sarah Burton took the reins from Lee McQueen after his passing in 2010, she rejigged the house's codes to a hyper-feminine take on British heritage. Ruffles were paired with masculine tailoring, leather armory and biker details met shearling, and beautifully silhouetted dresses were cinched by thick harness belts. In all her collections, Burton explores the contrast of feminine strength and sensuality in the real world, what she once described to Vogue as "soft armor for women." Think of her lace-up leather boots that take you from the office to a chic dinner outfit, not a blister in sight. Burton refashioned Alexander McQueen into an emblem of strength and courage for women who refuse to be bound by rules.
RIHANNA
Truth: we all want to be as feisty as Rihanna, and Fenty Beauty and Fenty x Puma give us a chance to linger in her stardust. While the Fenty fashion house has faltered, LVMH is backing Savage X Fenty, her boundary-melting, super glossy, super sexy, super-inclusive lingerie brand. Forget modesty and self-consciousness—Savage lets you immerse in opulent bras and boxer shorts in intricate weaves and funky patterns, in sizes and fits for every shape, elevated to the next level to celebrate the body. Rihanna recently announced five upcoming brick-and-mortar stores, which will undoubtedly fill up with legions of fans who would follow her to hell and back. She succinctly described the brand and runway shows to The New York Times as "Women being celebrated in all forms and all body types and all races and cultures."
STELLA MCCARTNEY
Stella McCartney brings a softer side to women's fashion, in what she calls a play of strength and fragility, of clothes designed for movement and ease of wear. Case in point, the exemplary slouchy trousers, trapeze-cut silk dress, and wide tunic that stole the limelight at her Spring/Summer 2015 show. "[I] liked that idea of comfort, when things are falling off your hip. Let them be worn by you rather than constraining you," she said of the wide-legged pants to The Guardian. Her quintessential pieces, like the Falabella bag and Elyse platform brogues, all play on a lightness of spirit, not on the stereotypical whimsy of femininity but freedom to wear your clothes and not have them wear you. 
Edited by Demi Vitkute.